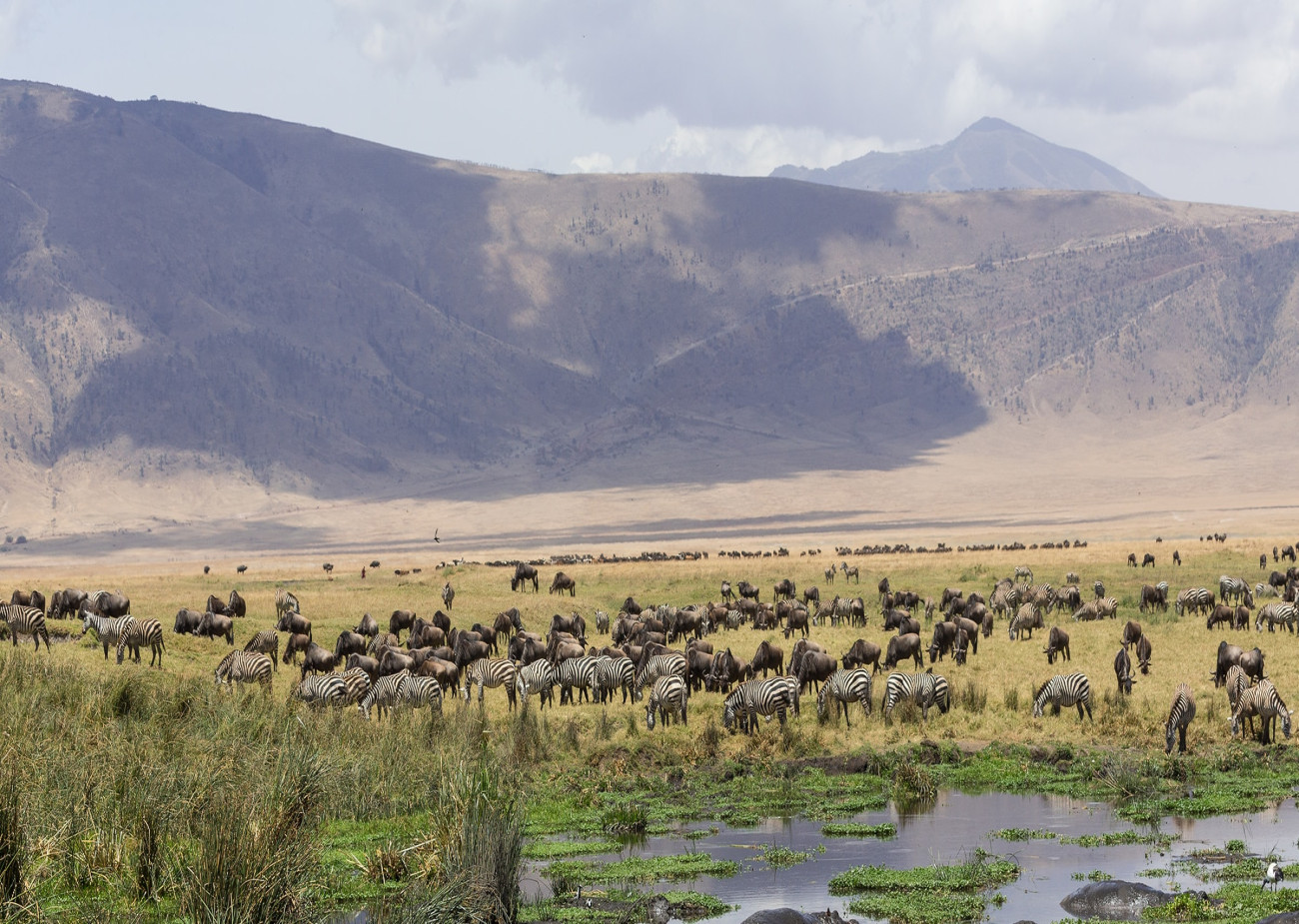 Ngorongoro Crater: Best Routes to Eden Garden
Ngorongoro Garden of Eden. Once upon a time, the Ngorongoro Conservation Area was considered as the roof of Africa. 3 million years ago Kilimanjaro was not considered as the "The Roof of Africa" but it was the Ngorongoro Crater which had a massive super-volcano that stood higher and mightier than Kilimanjaro.
The jewel in Ngorongoro's crown is a deep, Volcanic crater, the largest un-flooded and unbroken caldera in the World.
"The Ngorongoro Crater is a breathtaking natural Wonder."
The Ngorongoro Conservation Area covers up 8,292 km2 of northern Tanzania. Consider as a World Heritage Site declared by UNESCO in 1979,
The area is considered as the" Garden of Eden" of Africa and have a glorious landscape that's teeming with about 25,000 animals including four of the Big Five and other large mammals, Including ungulates, buffalo, warthog, hippo, and elephants and an amazing population of lions, hyenas, jackals, cheetahs, and leopard.
The conservation area is known to hold the earliest evidence of the existence of human ancestors which includes the fossilized footprints at Laetoli. The Ngorongoro Conservation Area has the world's largest fully intact caldera which makes it the eighth wonder of the world, an amazing birdlife can be spotted which includes 500 birds' species out of which 400 can be found in the crater itself, also one of the best places where you can spot critically endangered animals like black rhinos, golden cats and wild hunting dogs.
It a home of Africa Big Five
Home to the king of the beast "Maasai Lions" the Conservation guarantees the tourists to spot critically endangered animals like black rhinos, golden cats and wild hunting dogs, During the wildebeest calving season, you will be able to witness thousands of baby wildebeests being born at the Ngorongoro Conservation Area.
Getting there
Most travellers will visit the Ngorongoro Conservation Area as part of a bigger package, including a visit to the Serengeti, Tarangire and Manyara.
The best option to access all parks of the northern circuit is from Arusha, Moshi and you get to Arusha is to fly into Kilimanjaro International Airport (JRO), which is situated about 46km/29mi from Arusha. It is also possible to fly into Julius NyerereInternational Airport (DAR) or Zanzibar international airport (ZNZ), and fly on to Arusha Airport (ARK) or Kilimanjaro International Airport (JRO).
By road, you can drive by our safari vehicle from Arusha
By fly small aircraft on chartered or scheduled flights, is to fly into to near airstrip Manyara or Serengeti, and you will be picked up from airstrip
Best time to visit
Wildlife viewing inside the Ngorongoro Crater is fantastic all year around.

But the seasonal climate fluctuations, migration and breeding patterns have a great influence on the choice of the best time to visit.

However, grass on the crater floor is short in the Dry season (June to September) and this makes animal spotting easier.

The scenery is lush and spectacular in the Wet season months (from November to May).
Accommodation
There is a varied choice of accommodation in Ngorongoro inside area and nearby Karatu city from budget, Sem-luxury and Luxury lodges and camp. This offers a great variety of food, amenities, activities, guided standards, location, service and privacy for a great life experience.
Activities
Culture tour (Maasai Village)

Walking Safari

Wildlife Safar, within crater tour

Wedding and anniversary Safari

Mountain trekking

Birding Safari

Camping Safari

Olduvai George (archaeology and mysterious stories)